Home Workout

Domination
2
Home Workout Domination
2
Continue the Home Workout Domination journey
with fun, effective workouts you can do from home !
Home Workout Domination 2

is the perfect next step after
Home Workout Domination so

you can…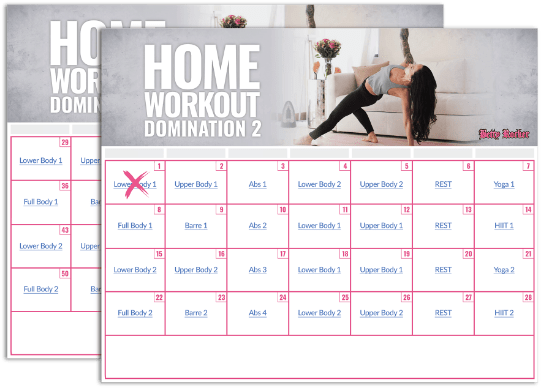 Continue to progress with all new workouts including both strength training and plyometrics.
Improve body composition (sculpt lean muscle and trigger fat loss) with these effective and fun workouts
Get great results with time saving workouts
Workout at home or in the gym with simple equipment like dumbbells, bands and an exercise ball (other options shown)
Betty Rocker
Program Results:
We can't wait to see how you do, and we know you'll crush it!
Here are some examples of the results people have gotten from programs like this one!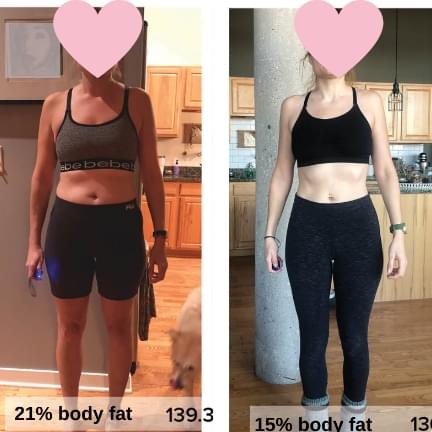 "I'm super stoked on how much I've achieved!"
I'm super stoked on how much I've achieved! I did a lot of cardio (biking) before this and would loose weight but wasn't getting toned or seeing the results I wanted to see. Thank you Bree and all the Betty Rocker coaches!
- Jenna B.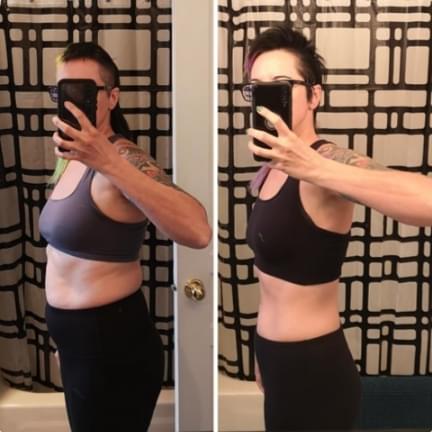 "Have lost 30 lbs and many inches!"
I started my seventh 30 Day Challenge yesterday and have seen significant results since I started last April. I'm loving my body, feeling amazing, have lost 30 lbs and many inches!
- Krystal R.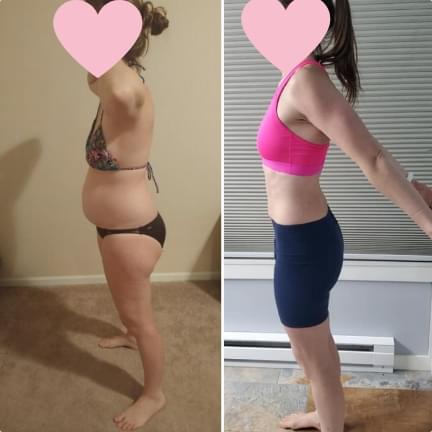 "With your workouts I have lost 24 pounds!"
With your workouts I have lost 24 pounds! Thank you for all the great information, resources and awesome work outs! Also purchased protein powders and they are delicious!! Here is my before and after… now I'd like to work on my core and gain strength!
- Veronica S.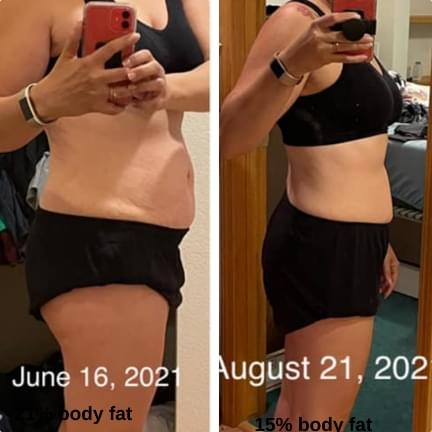 "Betty Rocker you have changed my life!"
Took some more progress pictures and I am so pleased! I never thought I could have muscle def again at almost 50 years old! Betty Rocker, you have changed my life!
- Denise S.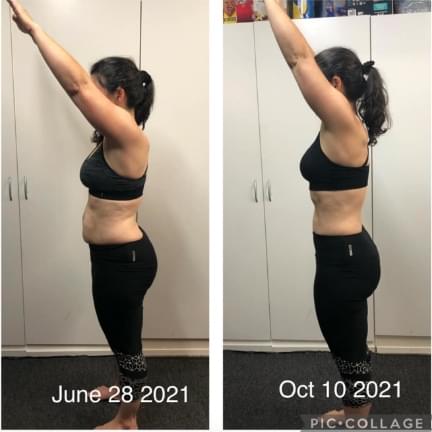 "Thank you for teaching me so much!"
I just want to let Betty Rocker and the other fabulous coaches know 1) how much I appreciate that you do the whole workout with us, 2) you are real people who get tired and have good days and better days like me, 3) you are doing these workouts in your homes without a bunch of fancy equipment. All this helps me know I can do this! Thank you for teaching me so much, keeping me motivated, and making it fun!
- Ashley B.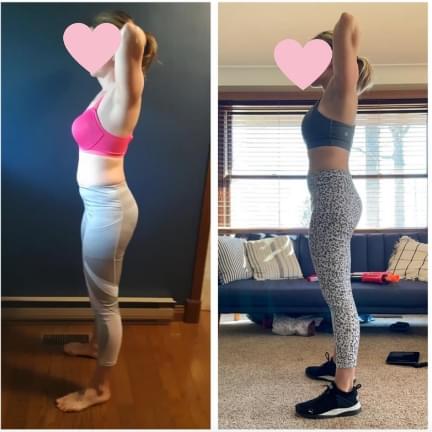 "10 months of Betty Rocker!"
10 months of Betty Rocker! I started doing whatever free workout felt good for my mood and I didn't really get a plan for months, I've since done HWD and I'm currently halfway through Abs and Booty.
- Brooke S.
* Individual results may vary and may not be typical or representative of what you might expect.
To learn more about our community's experiences with our programs look at our Testimonial Support page.
START home workout
domination 2 TODAY!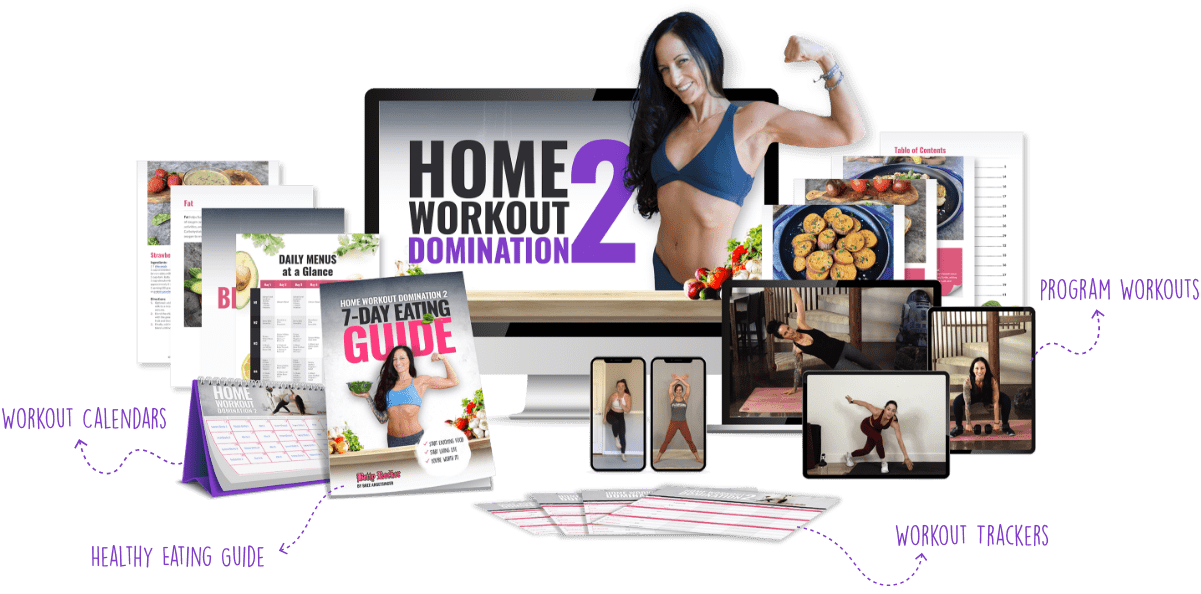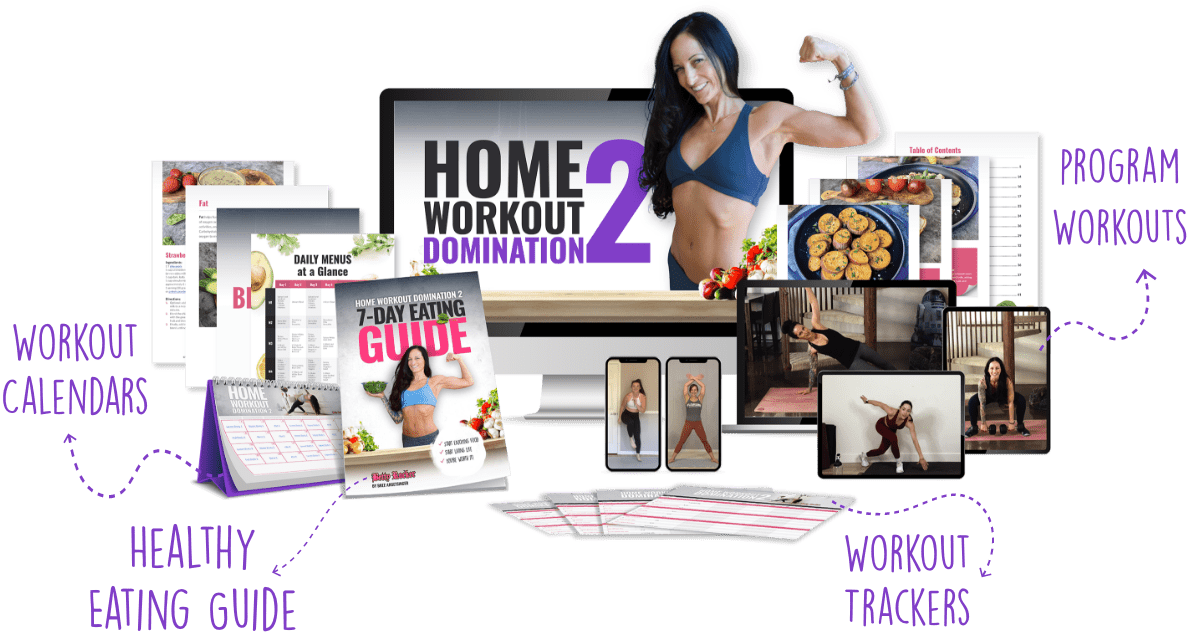 Start Now
Your Complete Home Workout Domination 2
Program Includes…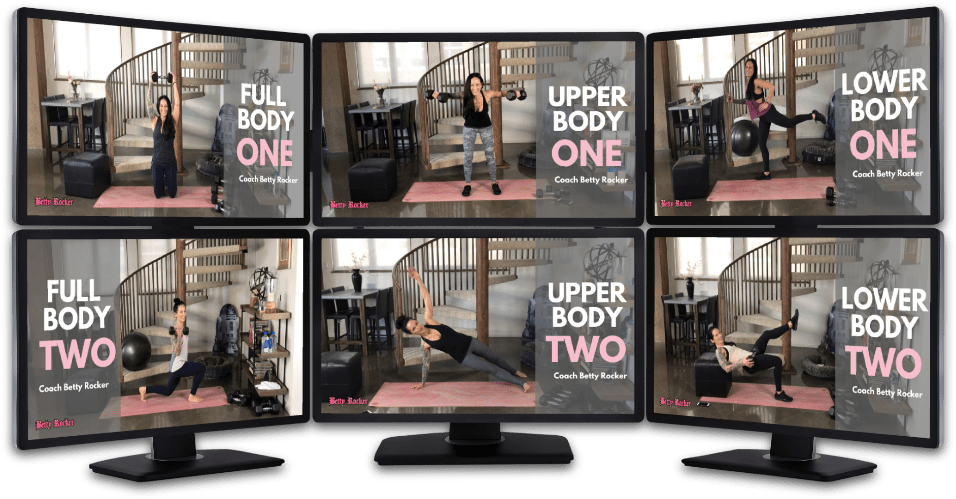 FOLLOW ALONG STRENGTH TRAINING WORKOUTS
Guided strength training workouts to help you sculpt lean muscle and enjoy more capability, endurance and a strong, functional body.
Enjoy building strength and getting shredded with fun workouts that will keep your body progressing forward!
FULL BODY ﹒LOWER BODY ﹒UPPER BODY
Perfect to follow up the original Home Workout Domination or use completely on its own, this program gets results!
Follow along with upbeat guidance, form tips and motivation from Betty Rocker and the Team Betty Rocker Coaches.

HIIT/EXPLOSIVE CARDIO WORKOUTS
Build bone density and muscular strength, up your cardiovascular capacity, save time and maximize your fat burn with these fun sequences!

abs WORKOUTS
Strengthen your core with targeted workouts designed to sculpt strong, engaged abdominal muscles that support your back.

barre WORKOUTS
Strengthen and lengthen key postural muscles and build better balance with fun barre workouts!

yoga WORKOUTS
Stretch and improve flexibility while caring for hard working muscles in athletic yoga workouts.
Betty Rocker and the Team Betty Rocker coaches
will guide you
to success!
Our certified fitness coaches will keep you motivated and on track to reaching your goals!
We can't wait to work out with you!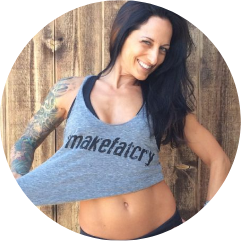 Head Trainer:
The Betty Rocker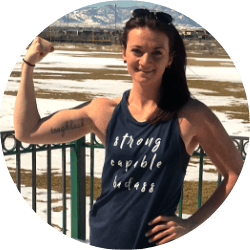 Team Betty Rocker Coach:
Amanda Hill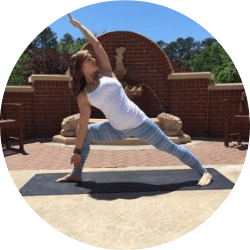 Team Betty Rocker Coach:
Nikki Cotton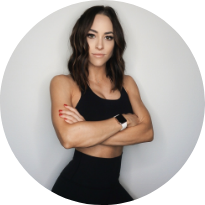 Team Betty Rocker Coach:
Rozaline Voges
Special Bonus

Gifts To Help You Get Even More
Healthy Eating Jumpstart Guide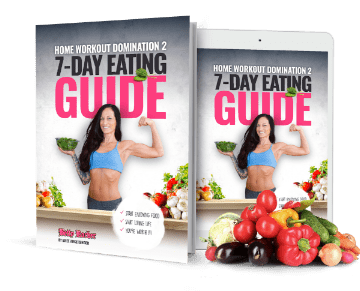 Get a jump on healthy eating and speed up your results with this jumpstart guide
Sample 7 day meal plan
20 healthy recipes for breakfast, lunch, dinner and snacks!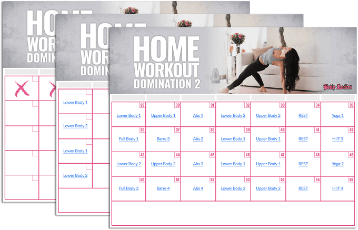 Workout calendars to help you stay on track with your plan
Short week calendar to help you stay consistent with your progress when life gets extra busy (also great for beginners)
60 Day Coaching and Accountability E-course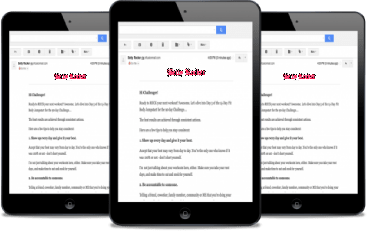 Personal emails from your coach (me) to encourage and support you on your fitness journey!
Motivating content each week covering nutrition, fitness and mindset to help you stay on track with your plan
Be supported and inspired as you work your way to great results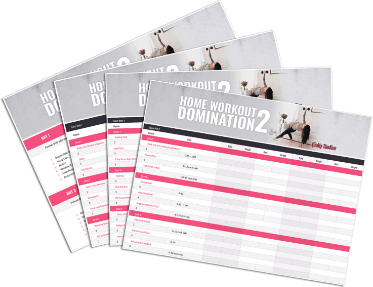 Printable workout tracker to take with you on the go
Conveniently track your progress as you workout to see how your strength increases
Motivate yourself by looking back and see how far you've come!
START TODAY!
Click "Start Now" begin

Home Workout Domination 2

today!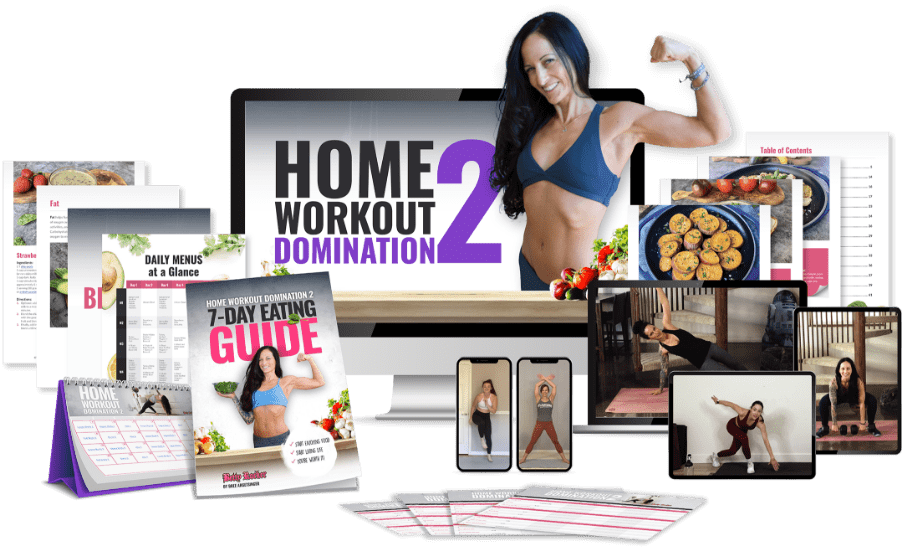 Workout Plan ($197 Value)+ Bonuses ($217 Value)
= $414 Value
Payment Plan
$0 x 0 months
Save $0

For security purposes, all orders are processed on a secure server.
You'll receive INSTANT ACCESS to the Home Workout Domination® and Bonuses Immediately
After Purchase. This Program is 100% Digital. No Physical Products will be Shipped.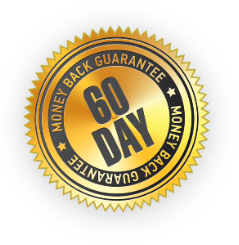 60 – Day Money Back GUARANTEE
Take the first step toward improving your health by trying my Home Workout Domination plan for the next 60 days. If you don't feel healthier, more energized and simply amazing, you won't pay. If you're not satisfied, simply contact customer service within 60 days for a full refund.
Bree Argetsinger CEO The Betty Rocker, Inc
Got Questions?
I've Got Answers...
What is included in this program?
You will get a complete, 8-week video workout program that has workouts for your full body, lower body, and upper body. It also includes HIIT workouts, ab workouts, yoga workouts and barre workouts.
Additionally, the program includes a 7 day jumpstart eating plan with recipes and a week long menu.
Workout trackers are included, as well as both a digital and printable calendar.
Support emails will be sent to you 2-3 times a week with supplemental material to help you get the best results.
Do I need to have done the first Home Workout Domination program to do this one?
No. This program works just fine as a standalone program, and you can jump in and enjoy it! If you do use it after the first Home Workout Domination however, you will notice that it provides you with the perfect progressive steps to continue the type of training style you enjoyed, while upping the challenge to keep your body adapting and progressing.
What equipment do I need to do Home Workout Domination 2?
You'll need weighted objects, ideally dumbbells although you could improvise with water bottles, water jugs or other household objects if you don't have dumbbells.
How is the program set up?
You'll have a series of dedicated lower body, upper body and full body workouts, ab workouts, HIIT workouts, Yoga workouts and barre workouts. Some of the workouts change each week, but you will be repeating some of the primary workouts over the course of each 2 week period in order to take advantage of progressive overload (you'll use your custom trackers to track reps, amount of weight used and rounds).
How long are the workouts?
Your primary strength training series workouts are in the 35-40 minute range. Your abs workouts and your HIIT workouts are in the 15-20 minute range. Your yoga and barre workouts are in the 35-40 minute range.
How fast will I see results?
If you are hoping to see your body composition change (muscle to fat ratio), this is a great program to do! Muscle responds to a challenge, which is why resistance training is included. Not only do plyometric moves (HIIT moves) support fat loss, they also help strengthen muscle tissue. With the addition of ab workouts, barre and yoga, you've got everything at your fingertips to sculpt a strong body. To make the most of the training you are doing, you should focus on resting on rest days, getting good sleep, eating protein with each meal and following the guidelines for healthy eating outlined in the eating guide. Using the material supplied in the email course will help you maximize your results and make your workouts as effective as possible. Each individual responds at their own rate of change, and what you get out of this program will depend on what you put into it.
How soon will I get my program?
Right away! As soon as you complete the checkout process, a secure password and login will be sent to the email you use* to make your purchase. You can access your entire program using that login. Your program is delivered digitally, no physical products are mailed.
What if I need help or support?
Send us an email anytime at support@thebettyrocker.com
We're always happy to help! If you are looking for a more personalized way to connect with the coaches and other people doing this program, we recommend joining Rock Your Life.
You may
also like
workout plan
Get stronger, fitter and faster in these fun 15 minute follow-along workouts - no equipment needed! Eating guide and meal plans included!
workout plan
Define your abs and sculpt your booty and legs with this time-saving 30-day workout plan that can be done at home or in the gym!!
workout plan
Build, strengthen and sculpt lean muscle with this 8-week women's strength training program (equipment is needed - home or gym). Comes with an eating guide and meal plans.