I Vanilla Protein
100% organic, high protein (20g protein per serving), nutrient-dense whole food protein powder combining 4 plant-based protein sources into a delicious vanilla shake to support an active lifestyle!
Products are automatically delivered on your schedule.
No obligation, modify or cancel your subscription anytime.

Support for your active lifestyle with delicious vanilla protein!
Our superfood protein blend supports your body from the inside out. With 20 grams of organic plant protein (containing all the essential amino acids), you'll be loving the energy and vitality you get each time you shake it, bake it, or blend it up with "I Vanilla Protein!"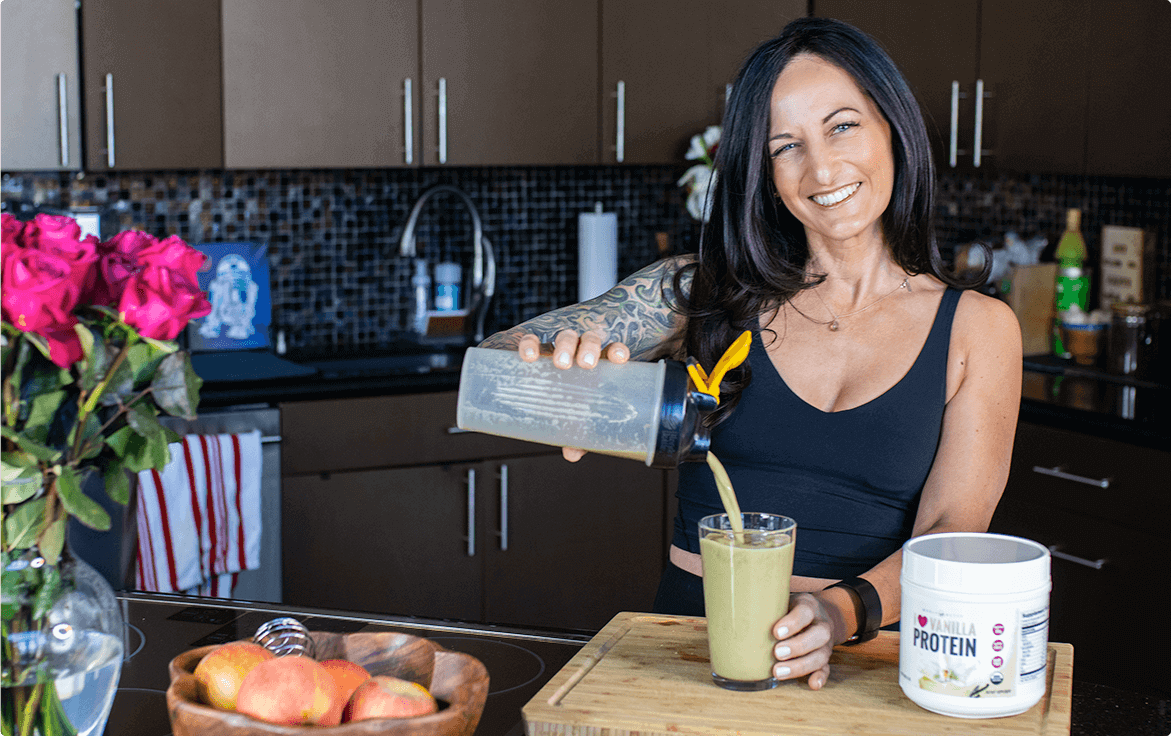 5 Key Ways Protein
Supports Your Body

1. ENERGY SOURCE
1. ENERGY SOURCE
Just like the other macronutrients (fat and carbohydrates), protein provides your body with the energy you need to move, think and perform your daily activities.

2. SATISFACTION AND FULLNESS
2. SATISFACTION AND FULLNESS
Protein is the most satisfying macronutrient (even more satisfying than fat or carbs). Including protein with each meal can help you feel more full and satisfied, and can help keep you from overeating, prevent blood sugar instability, and prevent cravings. If you are trying to lose weight or body fat, incorporating protein in your diet can make it easier to reach your goals.

3. BUILDING BLOCKS OF THE BODY
3. BUILDING BLOCKS OF THE BODY
Protein provides the structure for your bones, muscles, cartilage, skin, hair and nails.

4. TISSUE REPAIR
4. TISSUE REPAIR
Protein is essential for the repair of your body tissues after injury, and after training. This is one of the reasons why protein is one of the most important macronutrients to consume if you're exercising regularly.

5. REGULATION OF ESSENTIAL BODY PROCESSES
5. REGULATION OF ESSENTIAL BODY PROCESSES
Amino acids from protein form important hormones like insulin, human growth hormone, ACTH and glucagon - important for the regulation of blood sugar regulation, metabolism, and growth. They are also the foundation of enzymes, which speed up nearly all chemical reactions that happen in the cells - including those of digestion and metabolism.
20 grams of premium plant based protein


from 4 superfood sources with all the essential amino acids to


fuel your workouts, boost your energy and support your body:
North American Pea
Highly digestible and absorbable high-quality plant protein that contains all the essential amino acids needed for muscle synthesis and repair, plus it's rich in iron, arginine and branched-chain amino acids.
Chia Seeds
A powerhouse superfood that's loaded with heart-healthy fiber, protein, brain-friendly omega-3 fatty acids, B-vitamins, and magnesium. The antioxidants present in chia seeds (which also include quercetin, the most powerful antioxidant in the body) help to curb the levels of free radicals in the body, and also support healthy skin through the repair of skin cells.
Pumpkin Seeds
Rich in protein, fiber and unsaturated fatty acids pumpkin seeds can support healthy cholesterol and play a role in healthy weight management. They are also one of the best sources of magnesium, essential for blood pressure and blood sugar levels, as well as heart and bone health. Pumpkin seeds also contain antioxidants like carotenoids and vitamin E, supporting a healthy immune system.
Cranberry Seeds
A healthy super seed that contains copper, aiding in iron absorption and manganese, which aids in protein and amino acid digestion and utilization, as well as the metabolism of cholesterol and carbohydrates. Manganese also helps your body utilize a number of vitamins, such as choline, thiamine, and vitamins C and E, and ensures proper liver function.

Easy Ways to Enjoy
I Vanilla Protein

shake it
Mix I Vanilla Protein with just water and enjoy a fast, smooth and delicious protein shake!

blend it
Add your I Vanilla Protein to a smoothie along with some fruit for a smooth, delicious protein treat!

bake it
Add I Vanilla Protein Vanilla Protein to your favorite power bars, muffins, pancakes or baked goods to boost the nutritional value and add a delicious vanilla flavor!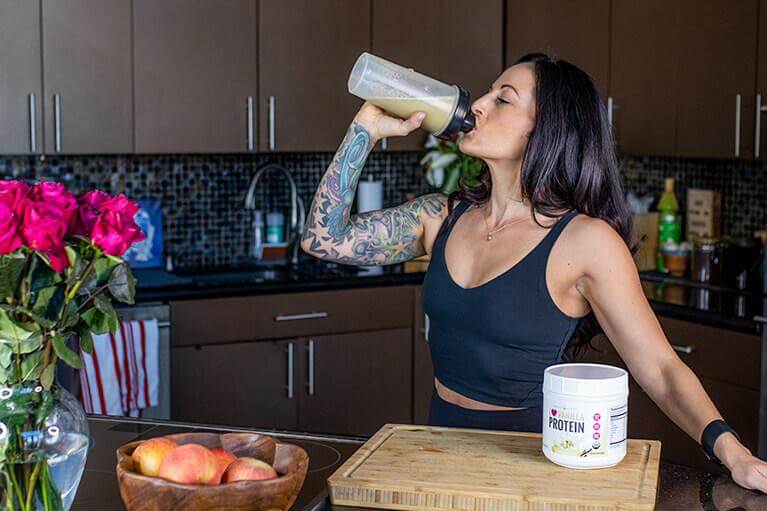 bonus!
I Vanilla Protein Recipe Guide,
included with your first order!

Quality Support for Your Whole Body,
by Whole Betty

I was inspired to create the Whole Betty product line when I found myself at a loss to find the level of quality supplements I was looking for to support my own health and fitness journey.
I was determined to create whole food based products free of additives, artificial ingredients and fillers - that tasted great, were affordable, and that I looked forward to using. Join me behind the scenes inside the facility where our products are lovingly made, and find out why I use these products myself daily, share them with my friends and family, and most importantly with YOU!


This Unicorn Seal represents that magic that exists when we give ourselves the love we deserve by eating, moving and thinking in ways that support our body, the people around us, and the world we live in.
What's Inside
I Vanilla Protein is an organic, nutrient-dense complete protein powder. "Complete" means it contains all 9 of the essential amino acids your body cannot make on its own.
We've blended the protein of 4 plants, including natural pea protein isolate, organic chia seed, organic pumpkin seed, and organic cranberry seed. We use organic natural vanilla flavor and organic monk fruit to bring out its balanced sweetness and tasty vanilla flavor. We added a little organic coconut milk powder to make sure it blends well and has a smooth, creamy texture without the use of dairy, fillers, or chemical additives.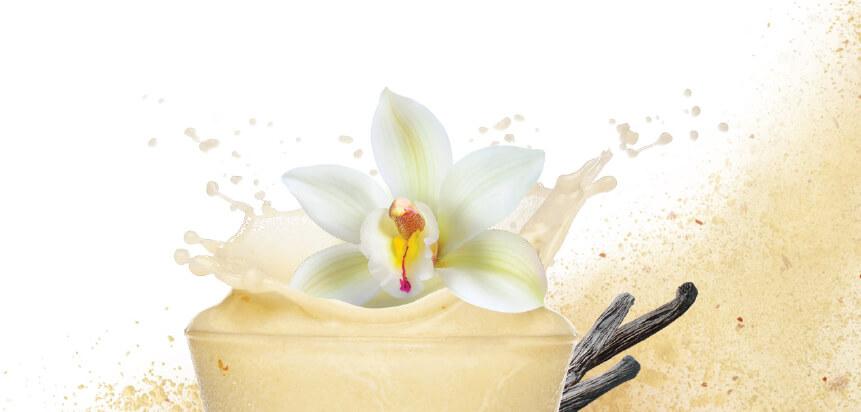 Ingredients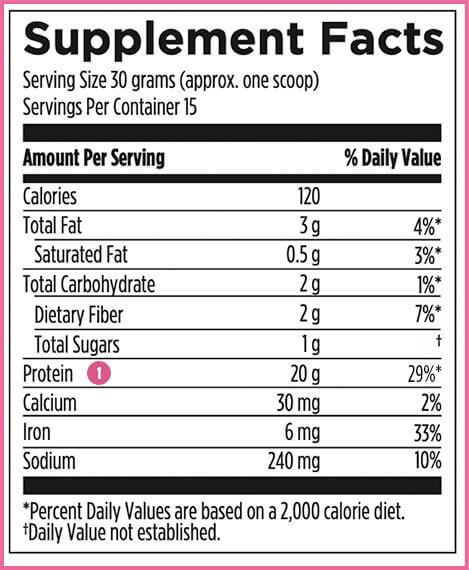 Ingredients: Protein blend (organic pea protein, organic pumpkin seed protein, organic cranberry seed protein, organic chia seed protein), organic natural flavors, 2 organic coconut milk powder, organic monk fruit. 3
Contains tree nuts (coconut). 4
Protein
20 grams of protein is a versatile serving size that can be enjoyed on its own, boost the nutritional balance of a smoothie or any baked good.
When combined with a whole food based diet, protein powder can ensure you have all the nutrients you need to support your active lifestyle, while helping to reduce cravings by leaving you feeling full and satisfied.
Contains Tree Nuts (Coconut)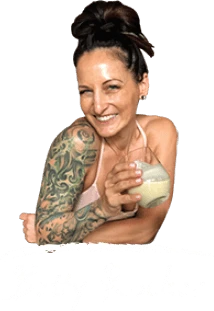 whole body by
At Whole Betty, we believe that Whole Foods should form the foundation for what you put in your body. That's why our ingredients are mindfully sourced and our blends are consciously created so you get the maximum health benefit, every time.
What Our Rockstars are Saying About

I Vanilla Protein

...

"I've been loving the I Vanilla Protein protein powder! I use vanilla protein almost every day, and I'm always on the lookout for one that is gluten free, dairy free and made with high quality ingredients."- Roz V.

"One of the things that I love the most is the taste, because I am really, really picky about my protein powder. It has a great taste, it mixes in really well, and it blends great!"- Nikki C.

"I absolutely love this product for so many reason - first because it's absolutely delicious, and secondly because it's so versatile!"- Alyssa C.

"I love that it has no fillers, additives or chemicals. It's a great product that tastes great, and it's very easy to drink."- Barb S.

"One thing I love about it is that it has a nice subtle sweetness and vanilla flavor that is not overpowering like a lot of protein powders can be."- Donna P.

"It tastes like real ingredients because it IS real ingredients!"- Neesha R.

I Vanilla Protein
100% organic, high protein (20g protein per serving), nutrient-dense whole food protein powder combining 4 plant-based protein sources into a delicious vanilla shake to support an active lifestyle!
Products are automatically delivered on your schedule.
No obligation, modify or cancel your subscription anytime.

You may
also like
supplements
100% organic, high protein (22 grams of protein per serving), nutrient-dense whole food powder combining 15 superfood greens and berries into one delicious smooth strawberry vanilla flavored shake!
supplements
This great tasting fruit punch formula contains 30 servings of all 9 of the essential amino acids (including the BCAA's) in their free form for rapid absorption and metabolic use so you can rock your workouts, build lean muscle, recover faster, boost your immune system and improve cognitive function.
supplements
30 servings of Hydrolyzed Collagen Peptides for daily bone, joint and skin support. Easily dissolvable and flavorless powder is perfect for adding to hot or cold drinks, smoothies, sauces or any of your favorite recipes.
References
Drummen, Mathijs et al. "Dietary Protein and Energy Balance in Relation to Obesity and Co-morbidities." Frontiers in endocrinology. August 2018 https://www.ncbi.nlm.nih.gov/pmc/articles/PMC6087750/
Kreider RB, Campbell B. "Protein for exercise and recovery". Physician and Sportsmedicine. June 2009. https://pubmed.ncbi.nlm.nih.gov/20048505/
Bray, George A et al. "Effect of dietary protein content on weight gain, energy expenditure, and body composition during overeating: a randomized controlled trial." JAMA https://www.ncbi.nlm.nih.gov/pmc/articles/PMC3777747/
Lobo, V et al. "Free radicals, antioxidants and functional foods: Impact on human health." Pharmacognosy reviews. 2010. https://www.ncbi.nlm.nih.gov/pmc/articles/PMC3249911/
Martinec, Nenad et al. "Macro- and microelements in pumpkin seed oils: Effect of processing, crop season, and country of origin." Food science & nutrition. April 2019. https://www.ncbi.nlm.nih.gov/pmc/articles/PMC6526651/
Chen P, Bornhorst J, Aschner M. "Manganese metabolism in humans". Front Biosci. March 2018. Marhttps://pubmed.ncbi.nlm.nih.gov/29293455/
Tey SL, Salleh NB, Henry J, Forde CG. Effects of aspartame-, monk fruit-, stevia- and sucrose-sweetened beverages on postprandial glucose, insulin and energy intake. International Journal of Obesity. March 2017. https://pubmed.ncbi.nlm.nih.gov/27956737/